As the demand for new buildings increases, the benefits of choosing modular is coming to the fore.
When organisations need additional space quickly, modular build is the ideal way to reduce programme times by up to 50 percent – groundworks can be progressed on site, while module construction and fit-out takes place in the factory. This enables earlier occupation, vital for schools and hospitals, and means a faster return on investment for commercial clients.
By choosing modular, you can also be sure of design flexibility and capacity to deliver on time and on budget. Our industry expertise helps our clients to get the most out of their space and building requirements – with futureproofed solutions that enable easy expansion or reconfiguration for when your organisation's needs inevitably change.
As one of the UK's leading modular specialists, we have the capacity, capability and expertise to deliver your project no matter the size, timeframe and budget. Our state-of-the-art factory is based on a 37-acre site, which enables us to flex to your needs with the ability to scale up production to meet ever changing programme demands.
Permanent spaces
The complex building was required by the Trust to free up space within the main hospital – reducing wait times and improving the patient experience during urgent care
At 3,450sqm, the four-storey building was our largest project to date
132 steel-framed modules were installed with a 500-tonne crane operation
The full project, from design to completion was completed within just 80 working weeks
The facility was installed in just 23 days, and the building was complete in December 2022, in time to alleviate winter pressures.

Read more about the King's College project:
View Here
Diversity: Hinkley Point C Accommodation Complexes
The development required a comprehensive office, welfare and catering facility for UK's first nuclear power station since 1995
We used Building Information Modelling (BIM) to ensure the building was as efficient as possible – reducing overall costs with a seamless data flow
As a high risk, nuclear site, we used our diverse range of expertise to ensure health and safety standards were met throughout
We operated under full ONR Nuclear License and developed an innovative lifting frame and safety carousel to combat potential safety risks of working at height – this received a HPC Excellence Award for Best Safety Innovation.

Read more about Hinkley Point
View Here
Repeatability: Starbucks drive-thru restaurants
We engineered the distinctive R3 drive-thru outlet to suit offsite construction for important programme savings, with build times of just a few weeks
The solution reflected the exact needs of Starbucks and has been repeated on sites across the UK for over three years
The fully clad coffee shops were manufactured to reflect Starbuck's stringent design criteria
The consistency and reliability of the factory environment meant that brand guidelines were met time and time again – with ease.

Read more about Starbucks' drive-thru restaurants:
View Here
Rental spaces
Capability: TEDI-London modular campus
British Land needed a purpose-designed facility for the next seven years, until it relocated to its home within the Canada Water development
We worked with Hawkins/Brown to develop a framework for the expansion and phasing of the new campus
The building used 43 steel-framed modules, which were installed via cranes in just seven days
The project required a bespoke design to reflect the high-quality learning experience that would take place in the space
Architectural features include a full height glazed feature entrance, anthracite grey picture windows, internal glazed partitions and a folding wall to divide the events space form the café.

Read more about the TEDI-London development here
View Here
Diversity: HS2 project offices and welfare facilities
SCS JV required project offices and welfare spaces for 15 sites along the first phase of HS2
As the buildings will be in use for at least five years, minimising any negative effects on the environment was a priority for the project
We therefore created a bespoke design that reflected the client's desire for a sustainable space
This includes, rainwater harvesting to provide water for the site's operations, low energy lighting, PIR lighting sensors, low water consumption showers, dual flush toilets, effluent tanks to minimise discharge into local drainage.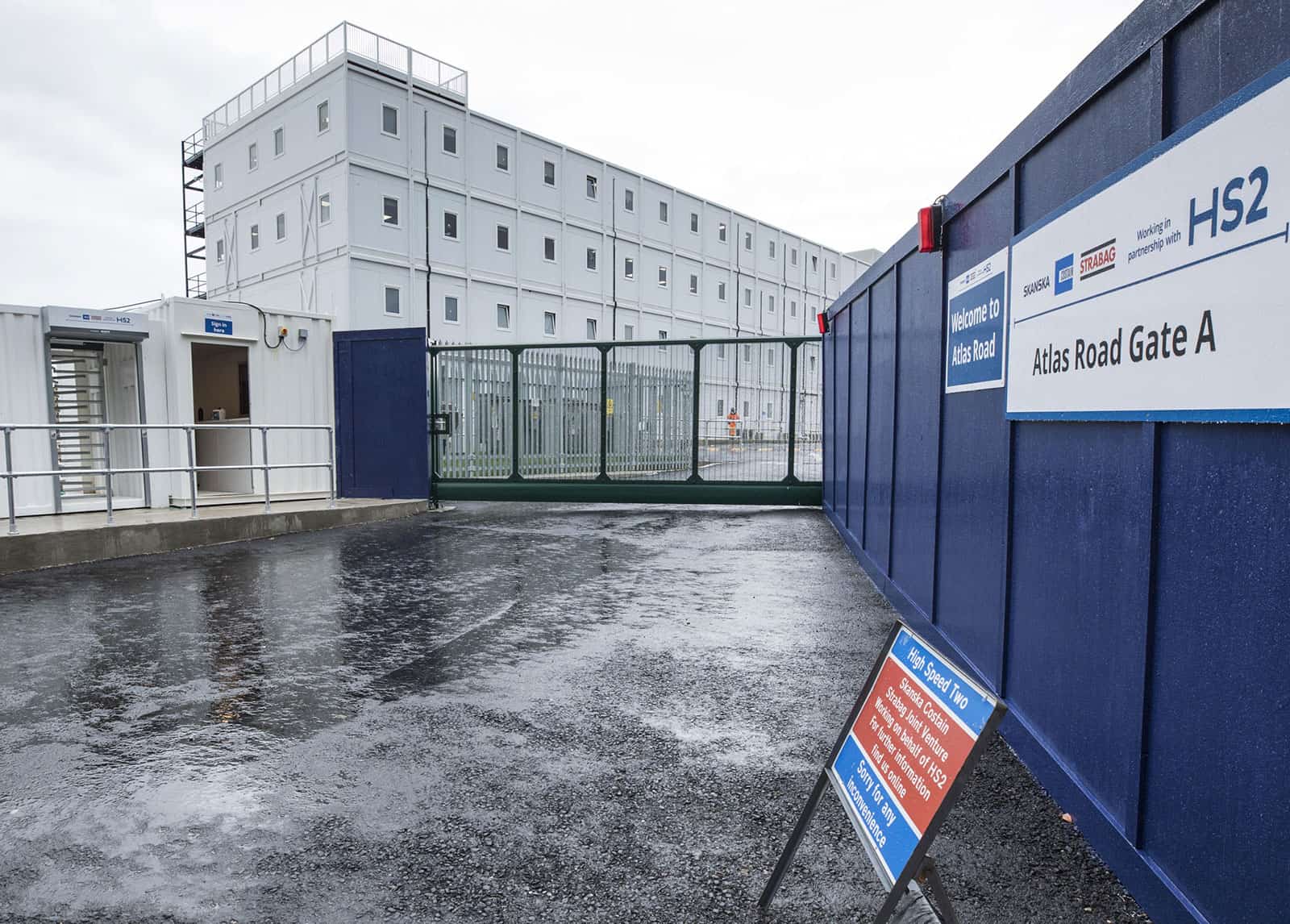 Read more about the HS2 facilities:
View Here
Royal Devon and Exeter NHS Foundation Trust needed a new hospital build at pace to respond to the pandemic
In just four weeks, we designed, reconfigured and installed 57 steel-framed modules – a project of this size would've in normally taken four months
All buildings met stringent building requirements and were supplied site-ready
The facility provided 116-bed for specialist care for those with coronavirus, as well as capacity for fast and diagnostic testing.

Read more about Nightingale Hospital:
View Here
No matter your bespoke needs, at Premier we have the experience, capacity and capability to provide a solution, get in touch for your permanent and rental needs today.