5th January 2015
Premier Interlink successfully provide new education facilities for the redbrick University
Premier Interlink successfully provide new education facilities for the redbrick University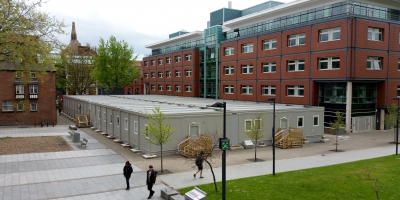 In conjunction with Capita, the property and infrastructure experts, Premier Interlink have successfully provided Manchester University with temporary admin and management facilities for their Dental School.
The project required decanting the Dental School staff and admin facilities for a two-year rebuilding project being carried out by Capita. Premier Interlink provided 36 bays of our Interlink product, designed and developed as a working scheme for the client by our specialist design team.
The building location was situated on an area of deep underground drainage and contaminated land. Our designers had to develop foundations, which suited the given conditions to reduce disturbance of the ground. Crane installation of the modular units was equally as difficult with underground drainage where crane outriggers were situated, works on ground stabilization were required to enable crane operation. Programme was tight and close working with the university was required to enable full decant of their existing building into ours.
Our expert methods of offsite construction and installation have demonstrated how we can deliver projects on time, with accuracy and with ultimate health and safety concerns in mind.
This project is currently on hire for 122 weeks.