7th March 2019
The Offsite Awards celebrate the best of precision building design and delivery. The Awards highlight outstanding examples of prefabrication and factory-based methods, products, systems and disciplines delivering a sustainable, streamlined and cost-effective way to deliver a better built environment.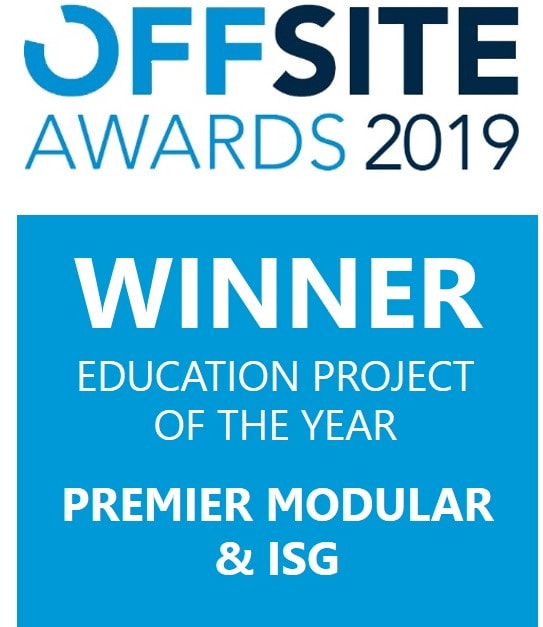 Beaver Road Primary School is one of 8 schools delivered in partnership with ISG for Manchester City Council over a period of 18 months.
The three-storey School provides 2,380m2 of accommodation for 550 pupils aged 9-11 was designed to achieve BREEAM Very Good, with most of the credits to hit these targets stemming from the overall airtightness of the building, its efficiency and natural ventilation system.
The facilities provided for the school included a fully fitted out sensory room, 14 classrooms, IT suites, offices, kitchen, a double height sports hall; an external play area was also provided at first floor level.
Beaver Road PS was one of 10 finalists in the Education Project of the Year Category; Premier Modular and ISG were overjoyed when the scheme was announced as the winner of this keenly fought category.
Congratulations and thank you to everyone involved in this project, Premier Modular is delighted that your hard work and commitment has been recognised by such a prestigious award.
The full scheme of 8 schools was also shortlisted for the BIM and Digital Construction category and was awarded Highly Commended, a highlight for ISG, Premier Modular and Manchester City Council as the overall scheme delivered Manchester City Council's first BIM Level 2 schemes.
Read our case study to find out more about the project.