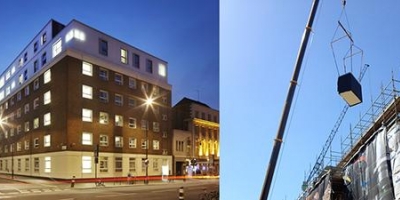 Thousands of new homes could be built in London by adding two storeys onto the rooftops of existing public buildings, Zac Goldsmith said today.
It was pleasing to see the Tory mayoral candidate pledged a full audit of municipal buildings to see where development could take place. Figures from his campaign suggest that if town halls in the capital added extra levels to all their suitable buildings, 140,000 new homes could be built.
The proposals come after the Government released a consultation last week to consider allowing Londoners to build upwards where it was in keeping with the area. One option was to add extra storeys to residential buildings, shops and offices up to the height of an adjoining roofline.
Mr Goldsmith said: "I'm standing up for future generations to ensure they can afford to grow up in and contribute to the greatest city on earth. My solution is to work with Government and Councils to deliver the homes Londoners need, and take advantage of the huge opportunities that are just in reach."
New developments would not be allowed to exceed the two-level limit and no new storeys would be permitted on top of existing buildings on council estates under his plans.
They would give councils the freedom to spread the construction of additional homes over their borough and could avoid the need for tower blocks and skyscrapers.
A report produced by the London School of Economics last year found that 59,000 homes must be built in the capital every year to meet demand.
This is a practical solution that can be fully supported by the use of Premier Modular's lightweight steel modular system, rapidly creating high quality, affordable accommodation within the City Centre. The tried and tested solution was put to great effect creating significant student living accommodation for UCL in central London.